The Crown Prince of Bhangra and the iconic sensation of Punjab has been on the rise always with his hard work and sheer dedication towards music. Meet the trendsetter,  Jaswinder Singh Bains aka Jazzy B is the most renowned pop star of the industry. As he lives in the U.K today, his heart remains still in the village, Durgapur where he was born. In an exclusive interview with PollywoodBoxOffice, Jazzy B opens up his heart out about his life in Canada, children and a memorable musical journey from Canada to Punjab.
PollywoodBoxOffice: How has been your working experience so far?
Jazzy B: It has been excellent. I started my career in 1993 and my first song was released in Canada. I have seen it all and the evolution of the music industry. Earlier, it was only audio songs but today, it's audio as well as video. The presence of social media has helped the songs to reach out more but back in the days when we did not have access to the internet, it was hard for us especially for me because nobody knew me in India.I think the struggle I did was totally worth it and has helped me immensely.
Where were you born and where did you pursue your education from?
Jazzy B: I was born in Durgapur, Jalandhar and then shifted to Vancouver at the age of 5. I pursued my education from Canada itself. I went to Frankhurt School, did my high school from there and my musical career started since then so I did not pursue a Graduation degree further. I took music more seriously.
PollywoodBoxOffice:How hard was it to adapt Canadian culture?
Jazzy B: You know it's always hard when you shift to a different country. For me, the best place on earth will always be Durgapur where I was born. It took some time to adapt in Canada but then I made friends in school eventually so it wasn't hard.
PollywoodBoxOffice:How would you describe your family and upbringing?
Jazzy B: My father, Gurnail Singh and mother, Charan Kaur were the best people of my life. I also have a brother and two sisters who are now settled in life. But I miss my mother a lot and she is no more. We all were close to my mom. But initially when I started my music career, my parents wanted me to work for a good company.Since, I was the first musician from my family, they were skeptical about it at first. Later when they saw me doing well, they were happy.
PollywoodBoxOffice:Since you were not from a musician's family, how hard was it for you to accomplish your dream?
Jazzy B: Yeah, it was slightly hard. Making a musical career in the Punjab industry is not easy. You need to have talent and good people supporting you. For me, the one who always believed in me wasParlok Singh Ji. He was the person who spent money on my first album and till today, I call him 'Boss'.
PollywoodBoxOffice:Who has been your thorough inspiration?
Jazzy B: It is Kuldeep Manak. I used to listen to his songs back then. He is my Guru and I would have been nothing if it wasn't for him. He is my role model.
PollywoodBoxOffice: Who are your favourite actors from the Pollywood?
Jazzy B: I love Gippy Grewal and Diljit Dosanjh. They are tremendously good actors. I know them personally and they are my good friends too.
PollywoodBoxOffice: And who are your favourite Pollywood actresses?
Jazzy B: I like Surveen Chawla and Sonam Bajwa. They both are doing really well.
PollywoodBoxOffice:Who are you close to in the industry?
Jazzy B: I am very close to Gippy. He is like family.
PollywoodBoxOffice: You have worked with the popular Indian rapper, Honey Singh. How is your friendship with him?
Jazzy B: We are family friends. Honey is a very nice person. I have and always will support him. He is like a brother to me.
PollywoodBoxOffice: Are you coming up with any Bollywood projects?
Jazzy B: Well, big projects change at the last minute of execution so nothing is fixed in Bollywood. But apartfrom that, I have already recorded a few songs. I have 4 albums coming out next year. It's a big year ahead is what I can say.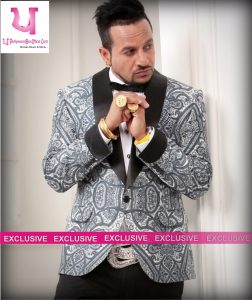 PollywoodBoxOffice:How is your relationship with your children?
Jazzy B: I have a daughter, Iesha and a son, Joven. They both are my life and I love them a lot.
PollywoodBoxOffice:  Does any one of them like Punjabi music? How often do they visit India?
Jazzy B: Joven likes Punjabi songs. Let's see if he wants to make a career in music while Iesha is all about Drake and Justin Beiber right now. She loves playing football. Iesha loves Canada a lot while my son loves India. So you see they both have different choices in life. Laughing.
strong>PollywoodBoxOffice: Do you think Punjabi films should expand their horizons and come up with different subjects?
Jazzy B: Yeah. I think they could come out with various genres like suspense and thriller movies. There is a lot of scope to improve and I think in the years to come, Punjabi movies will do a lot better and come out with different content for the audience.
PollywoodBoxOffice: Who is your godfather?
Jazzy B: It's definitely Kuldeep Manak.
PollywoodBoxOffice: What is your message to the fans?
Jazzy B: My fans have supported me a lot and I would thank them for all the love they have given me. My fans have made me what I am today and they mean a lot to me.
By Mousumi Paul