The famous writer in the industry known for Carry On Jatta, Naresh Kathooria is one of the rare talents whos made the audience fall for their seats laughing. With his recently released film Vekh Barataan Challiyan as writer and his Dialogues in Carry on Jatta 2, he promises them to be an amazing watch with Box-Office hits already and soon to be Released Mr. & Mrs. 420 Returns Directed by Ksshitij chaudhary which has created tremendous hype within the industry . Naresh Kathooria is excited and takes us through his life journey exclusively in converation with PollywoodBoxOffice.com Movies Music & More
PollywoodBoxOffice: Where were you born and how did you become a writer?
Naresh Kathooria: I was born in a small place near Bathinda. I did my Masters in Theatre from Punjabi University, Patiala. In 2002, I moved in to Bombay to become a Director but fate had other plans for me. Initially, I faced a lot of problem because migrating from Punjab to Mumbai was difficult during those times. So, I took up a job as an Assistant Director for the serial-Zindagi Humshakal. So, while shooting we had to change the dialogues on spot sometimes and I used to always give my inputs firsthand. Producers observed me and asked if I could write the dialogues and I never thought that I could write that well. But then I started writing for fun which gave me immense joy and steadily, I took up writing as my career.
PollywoodBoxOffice: How much did you struggle to become what you are today?
Naresh Kathooria: Writing is tough but it seemed effortless to me. I got very habitual at the early stage and then I started writing for fun. Angrejs writer Amberdeep Singh and I were friends even before we got successful. We used to watch films over and over to understand each and every aspect of a film. Later, we both also wrote Chak De Phatte which was a big hit in Canada. Even at this stage, I want to learn more and more. My dream is to become a Director but before that I want to grasp each and every element that goes into making a film.
PollywoodBoxOffice: How was your upbringing?
Naresh Kathooria: I always had the support of my family and Paridhi Kathooria, my wife. But yeah, initially when I started my career in the film industry, my family was kind of impatient and wanted me to get settled. But I was also very adamant on pursuing my dreams so I went ahead with it and today everyone loves my job.
PollywoodBoxOffice: How has your writing experience been so far?
Naresh Kathooria: Mazedaar experience for me. I write keeping the audience in mind, if theyll laugh on a particular punch line or not. I have watched so many comedy films but there is no such movie as Carry On Jatta. I have seen people falling from their seats holding their stomach. Punjabi cinema is touching new heights of success with every passing day .
PollywoodBoxOffice: Who has been your writing inspiration?
Naresh Kathooria: I am a big fan of Jaspal Bhatti. I have learnt a lot for Jaspal Ji. I also admire Priyadarshan Ji from Bollywood.
PollywoodBoxOffice: Which is your own favourite movie?
Naresh Kathooria: I like Vaisakhi List. Though it did not work well at the box-office but I think I like my work as a dialogue-writer in that movie.
PollywoodBoxOffice: Who are your favourite actors from the industry?
Naresh Kathooria: I like Binnu Dhillon and Amrinder Gill. Also, I think Neeru Bajwa is very talented.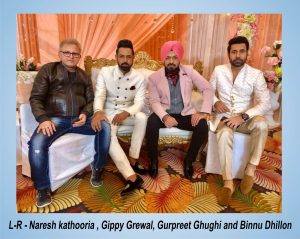 PollywoodBoxOffice: Any Bollywood projects you are coming up with?
Naresh Kathooria: Well, I remember Akshay Kumar loved Carry On Jatta when it got released. So, we had a plan of making a Hindi remake to the film and Akshay Kumar in the main lead. I have to create a bound script and send it to Akshay Sir. So, maybe in the future, he might do the film.
PollywoodBoxOffice: You have also acted in 3 Punjabi films. Would like to try a hand in acting again?
Naresh Kathooria: I would like to act in small roles. I do not want meaty roles at the moment because I want to focus more on my writing and direction.
PollywoodBoxOffice: Any funny incident you would like to share?
Naresh Kathooria: We were very naughty in our childhood days. I went to the D.A.V High School and as everyone knows that it used to be so boring standing in the line singing prayer songs in the morning. So, one day we thought about making the Morning Prayer exciting by tying a puppy in the classroom with a loose rope and place some crackers near it. When the crackers started bursting, the puppy ran so fast around the school that the prayer got disrupted. Laughs. We all were very naughty in our childhood days.
PollywoodBoxOffice: Any message for your fans?
Naresh Kathooria: I want the audience to stop watching pirated films. We all work very hard to make a film and then if the audience doesnt watch it in the theatres then how will our films grow. The industry definitely needs the support of its loyal target audience and fans so that we can become stronger and produce good content without fear of losing it to some kind of piracy records you will be surprised to know sometimes the films are pirated even before the release .The producers suffer a great deal 'coz of this.
By Mousumi Paul
PollywoodBoxoffice.com
Movies Music & More…
LIKE US ON – https://www.facebook.com/pollywoodboxofficeindia1/