One of the Iconic Singers, Preet Harpal is known Popularly for his contribution to Bhangra and Pop Music. And this year, he is coming up with Many songs Back to Back  a surprise for all his Punjabi fans. Read the adventurous, momentous and a daring journey of Preet Harpal that you have never heard before only on PollywoodBoxOffice.
PollywoodBoxOffice: Tell us something about your childhood.
Preet Harpal: I was born in Gurdaspur on 31st March. Later, my family shifted to my mother's village and we started living there. I always had a knack for singing. I was crazy for music since childhood. During those times, music was not taken as a serious career. My family was into farming and got skeptical about my choice and did not support me enough. My father, Sardar Bachchan Singh and mother, Late Kulwant Kaur wanted me to study well and apply for a government job and then get settled. But I had a totally different perspective in my mind. I left my home and my family for music. I went to Ludhiana to make my career and today, I am a known singer around the world which gives me immense pleasure.
PollywoodBoxOffice: Any memorable incident that happened with you during your struggle days.
Preet Harpal: After I left my home, my father came in search for me in Ludhiana. I remember hiding from him. I did not wanted to go back. Then my uncle came into my rescue and made him understand about my passion. My father gave me one and a half years to pursue my career. That's when I met my godfather in 1999, Jarnail Kumar Ji who recorded my first song ever. He was a big Producer and gave me my first break which was Hasle Vairne Hasle. And that's how I started my journey.
PollywoodBoxOffice: Which school and college did you go to?
Preet Harpal:I went to D.A.V Public School in Behrampur and graduated from Gurdaspur Government College with Bachelors in Arts.
PollywoodBoxOffice: Who has been your inspiration so far?
Preet Harpal:It has always been Kishore Kumar. Though I never had a chance to sing a song with him, I always looked up to him as a singer. I think he is the most versatile singer the industry has ever seen.
PollywoodBoxOffice: Which is your favourite food to eat?
Preet Harpal: Since I am a true Punjabi, I like Sarso ka saag and Rotis made with wheat. I also love having Gaajar ka halwa. Since my mother has passed away, I miss her a lot. She knew what I liked the most.
PollywoodBoxOffice: What are your upcoming projects?
Preet Harpal:I have 8 songs from my album coming up. Also, I have been working on a Punjabi film from a long time now. I hope to start the shoot this year.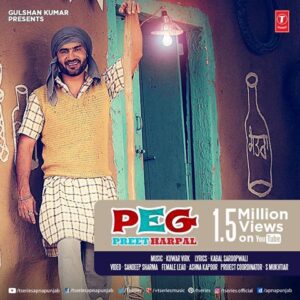 PollywoodBoxOffice: Who are your favourites from the industry?
Preet Harpal:My favourites keep on changing. I like Deepika Padukone at the moment. I think she has been working really hard and is a beautiful actress. I also like Neeru Bajwa and Amrinder Gill. Neeru is doing great for herself while Gill and I have a special bond between us. We both started our career at the same pace during the same time. Somewhere I think that I connect to him the most, though I know everyone from the industry.
PollywoodBoxOffice: What are your free time hobbies?
Preet Harpal:I like singing and singing. Earlier I used to read books but now, I am always busy and don't get a breather.
PollywoodBoxOffice: Where do you see yourself in 5 years from now?
Preet Harpal:Well, can anyone say? I just hope to become a good singer both in Pollywood and in Bollywood. I want to take up more projects and do well in my career.
PollywoodBoxOffice: What is your message to the fans?
Preet Harpal:Thanks for showering all the love on me. Keep supporting my work and listen to good songs. And a very Happy New Year!
By Pollywoodboxoffice.com
Movies Music & More…