Jasbir Jassi – Good Lyrics Cleanse Our Mind & Soul
The popular Punjabi singer who gave India, Dil Le gayee Kudi Gujrat Di, Kudi Kudi , Akh Mastani is one of the treasured singers today. With upcoming new singles, Jasbir Singh Bains also known as Jasbir Jassi gives us a scoop of his personal life, favourite actors and career goals exclusively to PollywoodBoxOffice.com
Where were you born and how was your childhood spent?
I was born in a small place called Mirzanpur, Dalian. I spent a good time there during my childhood days. I was brought up with lots of love and appreciation from my family. I have 2 sisters who supported a great deal to me.
Did your parents support your dream of pursuing music as a career?
My mother, Prakash Kaur believed in me. While my father, Ajit Singh was strict. He believed in stability. He was caring too but he wanted me to work for a government job. But later when he saw that I was doing well in my life, he started supporting me from there onwards.
Jassi ji How did you know that you wanted to become a singer?
Oh, it was never decided. I took my education from Baniar government school. I started my musical training from 9th and 10th STD. In fact, I also pursued Masters in Music from APJ College in Jalandhar along with theatre arts. I always liked both acting as well as singing but at last, music took away my heart.
If not music, then what?
If not music, then job (Laughingly). Oh yes, I did a one year job in the police department.
How has your experience been so far?
My experience has been excellent. I did not have to struggle much. I was rigorously trained under many Gurus. I had genuine acquaintances like Harbhajan Mann and many others who supported me. My first song Dil Leg gayee Kudi Gujarat Di was released by The Times Group. Later, T-series helped me with my work.
Are you coming out with any album?
I am not coming out with any albums. I will be working more on singles. I am releasing one single called Photo which is releasing on this New Year.
What do you think about the lyrics that these youngsters sing these days?
I personally think that the desperation works a lot these days. We all are desperate to achieve success in life. We have to clear our mind while writing down the lyrics which is not happening these days. Theres a lot of abuse used in the songs which should clearly stop. Lyrics cleanse our mind and Soul . And we dont want to pollute our mind, right?
Where do you see yourself in 5 years from now Jassi ji?
I think Il become a festival singer. I have always been worried about my career. Music made my life but it's all about how to make it big. So I would try different things and learn more.
 Who is your favourite actor from Pollywood?
I adore Diljit Dosanjh deeply. He has grown as a human-being and has been ever since working on himself. He has a very good voice range and acting abilities too. He will go far.
Whos your favourite actress from Pollywood Industry ?
I like Neeru Bajwas work. Mandy Takhar has done amazingly well in Angrej and Jonita Doda is also one of the promising actresses from the Pollywood industry.
What are your upcoming projects?
I am doing a small Sufi singers role in an upcoming Bollywood film called Band of Maharaja.
Whom do you look forward to work with in the Bollywood films?
I love Aamir Khans work. He knows what he is doing and is completely disciplined when it comes to work. Not everyone calls him,
perfectionist just like that.

Who is your inspiration in life?
Many people have inspired me through life. The one who constantly inspired me is my mother. She always stood by my side showing confidence. Also, Gurdaas Maan Ji is amongst them. In fact, he is a huge star but stays so down-to-earth and positive. I respect Gurdaas Maan Ji a lot. He is my ideal.
What is your personal message to the fans?
Do not listen to the song that doesnt motivate you. Be responsible and disciplined in life in order to achieve something. Zindagi mein ache gaane sunne chahiye.
ALSO CHECK – Exclusive interview with Jazzy B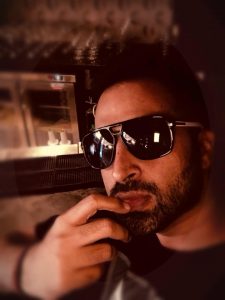 Harshdeep Doda, Founder
Pollywoodboxoffice.com
Movies Music & More…