The leading actor in Motor Mitraan Di, Ranjha Vikram is escalating with his popularity in the industry now. He is not only doing South Indian and Bollywood films,  in fact he is making his way for the Hollywood now. The trained boxer opens up about his future projects, personal life and his fitness mantra exclusively with Pollywood BoxOffice.
PollywoodBoxOffice:  Motor Mitraan Di has been doing amazing at the theatres. The audiences like the film a lot. How are you feeling?
Ranjha Vikram: I am feeling very excited. I knew the film was going to do well. The film teaches you a message in a comic way. Director Amitoj Ji has done a great job and has taught us a lot. The star cast was brilliant. This is my second film with Yograj Singh Ji and I admire him a lot. This film is very close to my heart.
PollywoodBoxOffice:  What was your family feedback after watching Motor Mitraan Di?
Ranjha Vikram: They loved it. They are in Canada right now and they are so excited for me. Even the audience's response is good so I am very ecstatic.
PollywoodBoxOffice: How close are you to your family?
Ranjha Vikram: We are a very strong bonded family. I was very close to my father. I have one brother and two sisters. All of them are settled in different parts of the world. My mother (Rita Singh) tries to stay with me but then she visits my siblings too. We all meet at occasions like Raksha Bandhan or any family gathering.
PollywoodBoxOffice: What is your 'Maa ke haath ka favourite'?
Ranjha Vikram: I love Methi Chicken. It is my absolute favourite. In sweets, I love anything made with chocolates.
PollywoodBoxOffice: You met Mike Tyson recently in Los Angeles. How was it?
Ranjha Vikram: It was a dream come true. I admire him and he is my favourite boxer. Rob Hickman invited me to the set of Kickboxer Retaliation for lunch and that's how I met him.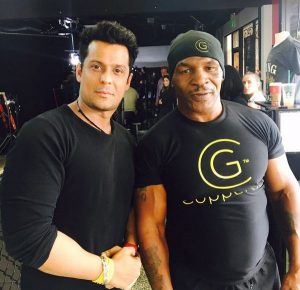 PollywoodBoxOffice: So are you coming up with any Hollywood project?
Ranjha Vikram: Oh, it'll be big news and I'll say it out loud when it happens. It is still in the talks.
PollywoodBoxOffice: Tell us about your acting journey so far.
Ranjha Vikram: Well, it has been great so far. I am improving day by day. I always follow my audience's reaction through Facebook fan pages.  I am also doing South Indian films along with Punjabi movies. I received Best Actor in Negative role for Rana Vikrama in 2016. I have done quite many films till now in Pollywood, Bollywood and South Indian films. I had to struggle quite a lot since my family had no connections in the industry. I had to start from the square one. I just want to continue with my good work.
PollywoodBoxOffice: How did you like working for South Indian films?
Ranjha Vikram: The language is confusing. I used to ask my Assistants about the meaning of the sentences. I had my scripts written in English so it wasn't a huge problem. I also did a cameo role in Baahubali. I had a great experience working with Puneeth Rajkumar in Rana Vikrama. He is a huge superstarin South India.
PollywoodBoxOffice: Did you plan on becoming an actor?
Ranjha Vikram: No. I wanted to become an Army Officer. I never thought of coming to Mumbai for acting.I lost my dad (Manjit Singh) at a very young age so I was busy in Delhi handling my father's business. I used to watch Akshay Kumar's movies and relate myself to him. I always loved his action movies and tried doing somersaults myself too. And then films came in my way and I took it seriously as my future. I did my first Bollywood film, Mumbai Godfather with Deepak Balraj Vij in 2005. That's how it all started.
PollywoodBoxOffice: Who is your inspiration?
Ranjha Vikram: I have been fonder of action heroes. I love Silvester Stallone from childhood. I love Rocky and Rambo till today. And from Bollywood, I love Akshay Kumar for his fitness and personality.
PollywoodBoxOffice: Tell us about the secret behind your perfect physique.
RanjhaVikram: I work out 2 hours every day at the gym. I don't eat and go to the gym. Instead, I drink juices.  My lunch is the biggest meal. I eat everything in the lunch like chapatti, dal, rice and sabzi but in fewer quantities. Giggles .
PollywoodBoxOffice: Who is your favourite actress?
Ranjha Vikram: I like Sunanda Sharma. She is a singer but I think she can be a good actress.  I like Neeru Bajwa from Pollywood and Deepika Padukone from Bollywood.
PollywoodBoxOffice: Are you dating anyone?
Ranjha Vikram: Oh no! I am very much single. Ranjha ko abhi tak apni Heer nai mili.
PollywoodBoxOffice: What are your future projects?
Ranjha Vikram: One of the Punjabi films will be starting soon. I also have one home production coming up too.
PollywoodBoxOffice: Where do you see yourself in 5 years from now?
Ranjha Vikram: I also want to get into politics. It's my dream to open up free health clubs for everyone.
PollywoodBoxOffice: Any message to your fans?
Ranjha Vikram: Thanks for accepting me in the Punjab film industry. I wish everyone a very happy new year. Love your family and be focused. Achieve all your dreams and don't do drugs. Be positive.
By Pollywoodboxoffice.com
Movies Music & More…