Starting his career as a Theatre Artist, the versatile  actor Harsharan Singh is popularly known for his critically admired role in the short film, Khoon which was also screened at   Punjabi International Film Festival in Toronto . He has acted in popular films like Chak Jawana starring Gurdas maan and Jonita Doda, Punjab 1984 with Diljit Dosanjh and Kaptaan with Gippy grewal . He's recently acted in Motor Mitraan Di and has been appreciated for his comic role. Let's have a sneak peek on his acting journey so far exclusively at PollywoodBoxOffice .
 PollywoodBoxOffice: How has your working experience been for Motor Mitraan Di?
Harsharan Singh: I loved working with the entire Motor Mitraan Di team and it was a pleasure for me. Director Amitoj Mann has taught me so much. In fact, the makers of the film were so happy with my work in the short film, 'Khoon' that they selected me for Motor Mitraan Di and I gave a nod instantly. Most of the Directors choose actors with whom they have worked before but Amitoj Ji is a brilliant Director and is an unbiased person who appreciates good work.
PollywoodBoxOffice: How was your bond with your co-stars in the film?
Harsharan Singh: Well, we enjoyed a lot while shooting. I was excited to work with Yograj Singh and Director, Amitoj Ji. It was a great experience working with them.  Sharing the screen space with Ranjha Vikram , Gurpreet Ghuggi and Happy Raikoti was immense pleasure too. I hope everybody likes the concept. There is a hidden meaning in the film and the audience will love it definitely.
PollywoodBoxOffice: How much did you work on your role in Motor Mitraan Di?
Harsharan Singh: I like to absorb the character in me. I am shown as one of the disciples i.e. Deepak. He blindly follows a Guru (Yograj Singh). The film has comedy element in it through which the message of the film is being portrayed.  I had to gain 15 kilos for my look and I also cut my hair to the scalp for the look in Motor Mitraan Di.
PollywoodBoxOffice: Did you always wanted to become an actor?
Harsharan Singh: Oh yes!I started my career as an Assistant Director with a clap board. I struggled quite a lot to reach where I am today. I also worked behind the camera before entering the industry because I wanted to see actors behind the camera. I learnt all the technical knowledge about how they talk and how they walk! I also know everything that goes into pre-production and post-production of a film. I gained knowledge about making a film over the years. After I knew what a film is all about, I went into achieving my dream of becoming an actor. Though I started from the scratch but I learnt a lot from the industry and I know it'll help me in the future.
PollywoodBoxOffice: Where did you complete your education from?
Harsharan Singh: I pursued my Graduation in Theatre Arts from Punjab University in 2001. I also did Post Graduation in Journalism as well.
PollywoodBoxOffice: Since you have also worked as a Theatre Artist, what do you think is a difference between doing theatre and doing films?
Harsharan Singh: There is a huge difference in the medium for both. For theatre acts, you have plenty of time to build the set and to practice your act. In films, you have to act in that moment itself. You don't get so much of time to prepare yourself. There is 75% of technique that an actor should understand before standing in front of the camera. Like how to stand, when to face the camera, where to face and many things.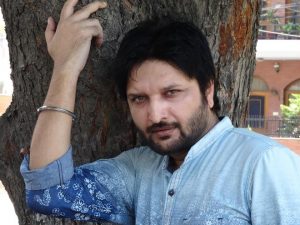 PollywoodBoxOffice: What are your future projects?
Harsharan Singh: I will be coming up with my own film this year. Furthermore, I have short films in the pipeline too. I don't see Bollywood projects happening anytime soon. I want to focus and stick to regional Punjabi cinema. I have seen leading Punjabi actors who can't even speak Punjabi. They are here in the industry just to make money and I don't want to do that.
PollywoodBoxOffice: What do you think is your best work so far?
Harsharan Singh: Undoubtedly, Khoon. This short film has got me a lot of recognition. People started recognizing me even more. I always want to keep doing better and present quality work.
PollywoodBoxOffice: Who is your favourite actor from the Bollywood?
Harsharan Singh: I like 'The Perfectionist' of the Bollywood and i.e. Aamir Khan. Also, Salman Khan and Shah Rukh Khan are very good actors.
PollywoodBoxOffice: Where do you see yourself in 5 years from now?
Harsharan Singh:Who knows about the future? I want to take up roles that are quality based. I just want to perform better and better in the years to come.
PollywoodBoxOffice: Any incident that you want to share with us?
Harsharan Singh: Well, yeah. There is  one incident that happened in Khoon which was quite amusing. We had to shoot one intense scene and I wanted silence since everybody behind the camera keeps talking. I shouted once and the whole set went completely quiet. And all of a sudden, one of the Assistants shouts again to maintain silence while he was the one making the most noise on the set. Laughs. And everybody laughed again. It was quite funny.
PollywoodBoxOffice: Any message to the audience?
Harsharan Singh: Happy New Year to everyone! Watch good films and appreciate them. Have a great year ahead and keep supporting my work.
By Mousumi Paul