The first actress emerging from her conservative family, Shiwani Saini debuted in Happy Go Lucky and then bagged the role of Sarabjit's elder daughter (Swapan) in the Bollywood autobiographical film, Sarabjit. And today, she's got the chance in a Hollywood film,  5 weddings acting along side Nargis Fakhri. Shiwani shares her wonderful escapade from Chandigarh to Hollywood exclusively with PollywoodBoxOffice.com.
PollywoodBoxOffice: So tell us how you feel about Sarabjit being shortlisted for Oscars?
Shiwani Saini: Sarabjit was showed in Cannes Film Festival which itself is a big thing. I feel amazing! All the hard work of Sarabjit team has been paid off. Going to the Oscars is a big thing and I am ecstatic about that.
PollywoodBoxOffice: How did you get selected for Sarabjit?
Shiwani Saini: The auditions for Sarabjit were happening all over India. I shot my audition tape early in the morning in a park. I sent that to the team in Mumbai and they liked it a lot. That's how it happened.
PollywoodBoxOffice: How was your bond with the Sarabjit actors?
Shiwani Saini: Talking about the actors, I would like to say that Aishwarya Rai Bachchan is very down-to-earth and motherly. She takes care of everyone and respects people for their work. I was very excited when I saw her for the first time. Same goes for Riccha Chadda. She is a good friend of mine now and I like talking out with her about my career goals. I did not get to interact with Randeep Hooda a lot because he is very professional. He likes to absorb the character in him from top to bottom. The only time I spoke to him was when we stayed in the same hotel.
PollywoodBoxOffice: Did you meet real-life Swapandeep Kaur?
Shiwani Saini: Yes, I met her 2-3 times. Swapan is very calm and composed. It's been 25 years that they have been struggling so now they have met their peace. I spoke to Dalbir Ji and she is very expressive and talkative. The interaction with them has really helped me while acting.
PollywoodBoxOffice: How was your experience working in Sarabjit?
Shiwani Saini: It's like a dream come true. Working with Randeep Hooda, Aishwarya Rai Bachchan and Richa Chadha was incredible. All of them are brilliant actors and I would have never been thankful enough to share the same screen with them. I learnt a lot from them.
PollywoodBoxOffice: You are also the part of a Hollywood film called 5 weddings. Tell us something about that. How was your experience working in a Hollywood film?
Shiwani Saini: Basically, there are 5 weddings in the movie and I am 1st bride. Nargis Fakhri is a journalist from the U.S who unveils the Indian tradition back in her country. The movie shows different colors of Indian culture and Director, Namrata Gujral made this film keeping the U.S audience in mind. The movie is filled with fun and drama like Indian weddings and I am sure people will love it. Working with Namrata and Nargis Fakhri was amazing. Both of them are very enthusiastic and always on toes. Nargis never shows off her stardom. She is very humble and a fun co-star.
PollywoodBoxOffice: Share with us something about your family and the bond you share with them?
Shiwani Saini: I come from a middle class family. I never had any connections in the industry and I am the first actor from my family. Initially, my parents weren't really confident about making a career in the acting industry but later, they accepted it. My father, RajinderSaini and mother, ManjuSainitake pride today, when they see me on-screen. People visit our home and call them 'Parents of an actor' which makes them evenhappier. I also have a sibling, AbhishekSaini who is two years younger than me. He tries to support my work in every possible way.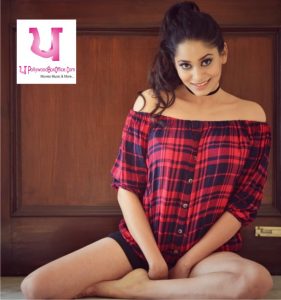 PollywoodBoxOffice: Where were you born and which school did you go to?
Shiwani Saini: I was born in Ambala and I pursued my education from PKR Jain School in Chandigarh.
PollywoodBoxOffice: Does your brother also plan on entering the industry? How is your relationship with him?
Shiwani Saini: Nonot at all. He is a graphic designer and never wants to become an actor. He is very shy as a person and likes it behind the camera. When we were kids we used to fight a lot. But now, it's different. He is not a typical bossy brother. We share things with each other a lot and I like it that way.
PollywoodBoxOffice: Did you always have the knack of acting?
Shiwani Saini: Well, I always wanted to be a fashion designer. I pursued my Bachelor's degree in Fashion Designing from INIFD, Chandigarh. While I was studying there, many of my friends suggested me to take up acting so I joined the theatre and tried a hand in acting. I did some plays tooand then, I got my first break in the Punjabi film, Happy Go Lucky. So in a nutshell, I never really thought of becoming an actress but my destiny brought me here and I am happy with it.
PollywoodBoxOffice: Did you take time to get friendly with the camera?
Shiwani Saini: My director, Amardeep Ji helped me out. He advised me initially on where to stand and how to face the camera. After 2-3 takes, I was comfortable and gave my best shot.
PollywoodBoxOffice: What are your upcoming projects?
Shiwani Saini: I have a few projects in the pipeline for next year. Meanwhile, I am the face of Punjab Bridal Week which will start from January in the whole of India as well as in abroad.
PollywoodBoxOffice: Who is your inspiration?
Shiwani Saini: I never planned on becoming an actor so I did not have any inspiration. But when I saw Richa Chadha in Sarabjit, she became my inspiration because she also comes from a middle class family like me. I look up to her and she is my inspiration.
PollywoodBoxOffice: Who are your favourite actors from the Bollywood?
ShiwaniSaini: I really like Dhanush and Aishwarya Rai Bachchan. I like Amrinder Gill from Pollywood. I have worked with him and he is cute.
PollywoodBoxOffice: What genre films do you like the most?
Shiwani Saini: I like sensible scripts. If I get a good script like Sarabjit then I would go ahead and do it. I want to be known for quality work.
PollywoodBoxOffice: What is your message to the audience?
Shiwani Saini: I would just say that if I could achieve all of this then anybody can. Put in your hard work and let your dream come true. Nothing is impossible.
By Mousumi Paul