THE WONDER-CHILD CREATES MUSICAL HISTORY..!
It was a music video album poster launch with a difference held at Mumbai's Renaissance Federation Club! No grand celeb-studded party with drinks and dinner. It was for a cause to create awareness about albino that affects human body and the human spirit to overcome the challenge. The protagonist of this non-commercial album is a 7 year old school-going albino kid Syna Shah who couldn't attend the event as her grandfather in Kenya wasn't well (She sent a lovely message though). The song ('My heart will go on..' from the iconic movie Titanic) sung in this album by the special child Syna has been beautifully shot (it's an awesome visual treat!) in Mumbai's Gorai beach when Syna visited the city.
Actor Rameshwar Singh aka Raam (who has earlier done some top international modelling assignments) who has produced and directed the album was present along with

co-producer Minakumari Patel where Raam described the challenges of shooting the video album with Syna as an albino affected human's day vision is blurred and their skin is very sensitive to sun rays.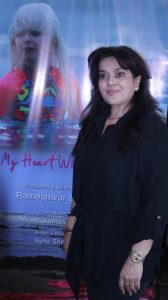 Co- Producer Minakumari Patel
"But Syna is a wonder-kid and is real special. She did her part extremely well and professionally which can be gauged from the album itself," said a happy-looking Raam.
Raam's picture with Syna is a file picture
Minakumari told how the music album will spread a positive awareness that albino can not tie down the spirit of a kid and is not an obstacle for one's growth in life.
"Syna is full of life and with her Barbie doll look and lively attitude she creates her owns fans wherever she goes," told Raam.
All the best to the team and Syna ofcourse the star of this superbly shot album.
By Nirmal Kumar Mishra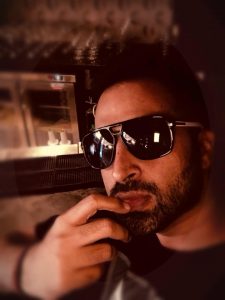 Harshdeep Doda
Founder, PollywoodBoxoffice.com
Movies Music & More…