Once in a while, an outstanding new talent emerges, with immeasurable promise and potential. When the talent in question also has the charisma and allure of a star in the making it is time for us to sit up and take notice.
Karanveer, who makes his mainstream movie debut opposite Parmish Verma, in this years eagerly anticipated movie, Rocky Mental, is such a talent a fine actor on his way to becoming a star. Beneath the imposing presence and Greek god body, Karan is surprisingly soft-spoken and mild-mannered – suave and articulate, yet exuding a boyish vulnerability that endears him to everyone.
From his early days Karan had been pursuing his parallel passions of theatre and fitness, acting in plays while also working as a fitness trainer. In 2009 he entered the Gladrags Manhunt Pageant and was declared the finalist from Chandigarh. This led to a series of modeling assignments and TV roles. His association with theatre continued and he matured as an actor, working on material from the likes of Saadat Hasan Manto, Bhagwati Charan Verma and Dharamvir Bharati.
He went on to act in a few indie and short films which propelled him towards an opportunity to work with Academy Award winning director Danis Tanović (No Man's Land) on his 2014 film Tigers. The experience was a turning-point for Karan and it instilled in him a focus on meaningful roles and quality cinema.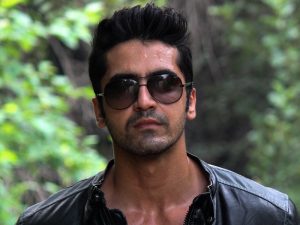 Fate works in mysterious ways. Sometimes an actor goes in search of a role and sometimes a role goes in search of an actor. Director Vikram Thori and actor Parmish Verma had a path-breaking film ready to go on floors but were held up as they could not find the right actor to play the villain. After an elusive search which lasted for months they stumbled upon an audition clip by Karan in early 2016 the decision was instantaneous they had found their villain!
The rest is history, as they say. About a year has passed since then and the film is ready for release in August. Karan is optimistic about its success and hopes his work will find acceptance and appreciation. We wish him the best and firmly believe he is destined for a brilliant career.
Pollywoodboxoffice.com
Movies Music & More…