The very name of Dara Singh created ripples in ones body wrestlers were scared to encounter him in the ring. Gradually, Dara Singh hailing from Dharmuchak a tiny village in Amritsar rose to climax from a farmer to International free style wrestler, than turned as a renowned actor-cum-producer. By nature very humble polite and gentleman.
The Word DARA means a king in Persian. So the name Dara Singh implies a leonine ruler which suits the renowned wrestler-cum-cine-cum television artist as if it were tailor made for him. Dara Singh has been the most dreaded name in the arena of free-style wrestling in the world, for he rose to achieve the title of World Champion after flooring some of the most formidable wrestlers of his time. Then he made a pleasant diversion into the glamorous world of films and one stellar role after another was bagged by him till he stood among those film heroes who were cast in the largest number of movies in the Indian filmdom. With his significant role in the most popular TV serial of our time the Ramayana as Hanuman earned a respectful place in the hearts and minds of millions of people all over the world. His role in the T.V. serial made a big dent and niche in the minds of viewers and virtually took him as Hanuman reviving the history. Soon he became a house hold name-a-name synonymous to strength, vigor, agility and humane.
Dara Singh Randhawa was popularly known and famous as Dara. He had a herculean figure, standing 63 in socks with muscles and built of a legendry hero. From his structure he was easily recognized from a distance and one would suddenly develop temptation to share feelings with him. Dara Singh was born on November, 19, 1928 at Dharmuchak (Amritsar) and his father Sardar Surta Singh was doing farming in his fields. Today the eyes of his fans and admirers are profusely weeping on his departure. There in something unique in the earth and environs of this Amritsar district which has produced many sturdy and strongmen. Tiger Joginder Singh and Dara Singh Dulchipur belonged to Amritsar. Kartar Singh an IPS officer and currently world veteran grecco-roman heavy weight champion for the last 12 years also hails from Amritsar. In his wrestling span Dara Singh beheld hand of his compatriots like Kanwarjit Singh Sandhu (Rustam e Punjab) Mohinder Piddi. He also boosted his nephew Baljit in wrestling. But Dara Singh only adopted Kartar Singh an Arjuna Awardee as his true disciple (Chaila) who offered Pagri to his guru Dara Singh and sought his blessings. In early eighties he practiced wrestling in Mumbai under the tutelage of Dara. Daras two sons Amrik Randhawa and Vindu Dara Singh made efforts to emulate the wrestling abilities of their father, but quickly abandoned , they are well settled and Live in Mumbai .
While Dara was a teenager, he left for Singapore to stay with his uncle. This is the place where he watched and observed the martial art of free-style wrestling and passionately dreamt of becoming a strong grappler. In a solemn and dignified tone he told the present writer that he never wanted to get his hair clipped, but had to bow to the stern demands of his profession. Having cut his hair he remained deprived of any honour by a religious body like S.G.P.C. His late father S. Surta Singh supported a flowing beard and tied turban. Dara Singh ritually tied turban in deep reverence to the faith to which be belonged. For one year Joginder Singh Sheron coached him, but soon he learnt all that he could teach. To his good luck Dara Singh came across Harnam Singh a strong and famous wrestler of that era who had even defeated Achhar Singh who was considered as a man mountain. Ultimately, Dara Singh adopted Harnam Singh as his guide, mentor and preceptor whom he admired. He even valued his Gurus son Ajit Singh in high esteem who was crowned as Hindi-ki-Shan (Pride of India) by late Shri Jawahar Lal Nehru.
In his face to face talk held earlier he stated that the game was unknown in India till 1951. At the age of 19, he fought Indian style in Akharas and made his debut in free style wrestling in 1949 in his wrestling career he fought more than 365 bouts and remained undefeated. He is the sole champion who remained the king of free-style wrestling for more than a quarter of a century. Dara fought against King Kong, Bill robbinson, Bill Verna, George Gordinko, Caswelmatin, Al Rick Dosan, Sohain Baba and many other and won numerous laurels. He had the first taste of world championship in London on 11th December, 1957. He recollected that his fight against George Gordain in 1959 was perhaps the toughest fight of his career. With a high-voltage smile Dara narrated that immediately after his victory he was carried by jubilant and hilarious Indian crowd, which took out a long procession and played music and performed Bhangra. That was the day of his achievement and he resolved to keep the national flag aloft and has never looked back. Dara Singh again won the World Championship in 1968 and continued to hold this signal honour till 1983, when he finally bade goodbye to his most beloved game before a mammoth crowd in Delhi. After his Guru Harnam Singh, Dara Singh was the second person to apply the Indian dead-lock. Some time while fighting in Amritsar in 1970-71, he applied dead-lock on Flash-Gorden (masked). Within seconds, Flash Garden was found helplessly bound and lying on the mat, moaning and wriggling like a fish at the end of hook. In life I could not resist asking him about his food habits and exercise which comprised 2 chickens, 3-4 kg. milk, about 250 gram of desi-ghee and almonds daily and scrupulously avoided any spicy and chilly food. At that time if was all exercise, food and rest.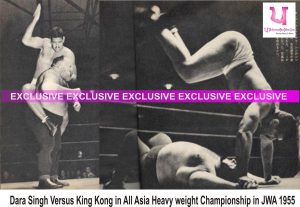 He had always defied that bouts were rigged and one could observe derisive snear on his face. If money was supreme how could he become a world Champion as he had nothing to offer. If compromise and bargains had existed how could he throw out King-Kong out of the ring who was almost double of his weight, stated the wrestler. Dara Singh was a pillar of strength, energy and power. He was a ferocious killer in the ring, but a humble gentleman outside. Once the author of this article prevailed upon him to be the Chief Guest of Sutlej Public School, Panchkula which he gladly accepted. In no time he got committed to film industry. Years back Dara Singh and writer had mooted a proposal to chandigarh administration for allotment of land for filmstan. In the school he willfully obliged students who made a beeline to have a glimpse and body feel of the stalwart.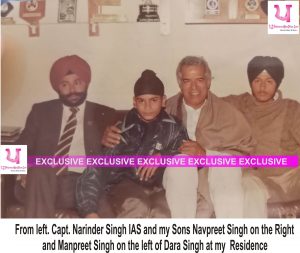 When Dara Singh was at the peak of his wrestling career in 1961 he was lured by Devi Sharma a Producer to join the film industry. Dara Singh could hardly believe it. He knew his likes and dislikes like the palm of his hand. In his wrestling career he had totally abstained from watching a movie and indulging in any kind of laxity or looseness. He was shy and hesitant to join the movie world. Interestingly in the initial stage of his film career, female artist were shy and scared of having any role with him, not due to his male chauvinism, but due to his usual strong hold and grip. Ultimately he softened it to the extent that he could break a rose from the stem without scattering the petals. So far he appeared on the silver screen in more than 115 films. He played leading roles mainly in King Kong, Hercules, Samson, Rustame Rome, Rustam-e-Bagdad, Lootera, Tarzen, Jab We-Met and many more. In Karma he virtually conquered the hearts of cine-goers by his patriotic action in not allowing the tricolor to be hit with bullets. He also acted with Prithvi Raj Kapoor. Mumtaz acted with Dara Singh in 13 films. Dara Singhs younger brother, Sardara Singh also a strong wrestler married Mumtazs younger sister. On another occasion a society who intended to organize a function in the revered memory of Dr. M.S. Randhawa a legendry art promoter in Ludhiana in 1989-90, had approached me, if Dara Singh could agree to be the Chief Guest. Dara Singh who was shooting for a film in Bombay agreed on my persuasion. So much so he refused to accept to and fro air ticket which he himself bore. Thus it was Randhawa to Randhawa function.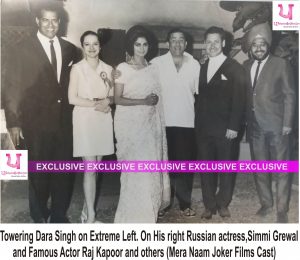 Nostalgically he realized that younger generation was whimsically inclined towards film-industry when hardly could get place in Bollywood spoiling the career of many young boys and girls. Dara and this writer had vociferously made attempts to find a place for filmstan in Punjab and Chandigarh which still remains in doldrums. He clamoured younger lot to stun drugs which has become a menace. To give a boost to Punjabi culture along with Gurdas Mann, Diljit Kaur, Rama Vij, Vindu and his wife Farah and other reputed artists from Bombay he graced the auditorium on the eve of Jhanjaran De Bol organized by Punjab Govt. In November, 1997 which was spearheaded by the author who was Director Cultural Affairs Punjab. With the passage of time Dara Singh got engrossed in film making and under his banner of Dara Production he produced Dhana Bhagat, Kisan Aur Bhagwan, Rustam (The Champion) and many more.
Mainly there are two contemporaries of Dara Singh in the world who have glorious record in the field of sports and flims. The name of Bruce-lee who dominated the Karate world also figure. His quick actions reflexes, flying kicks, somersaults had no parallel. This all he exhibited in the Enter the Dragon a movie full of dazzling, sparkling flights and wits. Arnold Schwargenegger and Stallon who were sportsmen also matter in film line. All said and done even Dalip Singh (Great Khali) towering above 7 feet, hardly has the prowess and swiftness which Dara possessed. When Bruce-lee was swift, agile and had electrifying moments, so was in case of Dara. Still Dara excelled every stalwart in strength, prowess, agility and swiftness. Men like Dara are hardly born in a century which vacuum has been created by his absence. Tiger Ajit Singh hailing from Ludhiana and settled in Canada a ferocious wrestler whose name was a terror in Japan and outer world admired Dara Singh who had a get-together at my residence. Luckily Jhinder Mahal (a Jat Sikh) a dreaded wrestler appearing in the WWE ring tying turban reminds us of the period Dara Singh dominated.
Dara Singh can be easily termed a s a wrestler, artist and politician as he was nominated to Rajya Sabha as Member from 2003 to 2009. What a irony of fate. When the wrestler could pounce on his opponents like a tiger struggled with certain ailments in the last 2 years of his life landing him helpless in a hospital in Bombay where he was put on ventilator, kidneys not responding properly, heart became pathetic and lying in total numbness. His admirers and fans knocked the doors of God-prayed for his recovery. Galaxies of renowned artist like Dharmendra and others thronged the hospital offering prayers, but the cruel destiny played its role and snatched him from his admirers and relatives leaving them in lurch on 12th July, 2012. His ashes were emerged in Kiratpur Sahib in the presence of Kanwar Sandhu, Kartar Singh Pehalwan and the author when hundred were seen bemoaning the tragedy. Considering the contribution made by Dara Singh for the promotion of sports, films and love for the country vividly deserves posthumous Padma award which would partially give solace to his lovers, fans and family members.
From
Capt. Narinder Singh , I A S (Retd.)
Former Director Cultural Affairs,
Punjab and Secretary to Govt. of Punjab Chandigarh
About the author Capt. Narinder Singh, IAS (Retd.) is a distinguished and well known bureaucrat an established prolific writer whose numerous articles on sports, art ,culture and films have invariably figured in numerous leading newspapers and magazines. Highly awarded in the field of writing and promotion of Punjabi culture by number of organisations at state and National level . A keen sports man and close Associate of Dara Singh.
PollywoodBoxoffice.com
Movies Music & More…
(Disclaimer) Views Expressed are solely of the Author , Website is not responsible for the Views/Expressions
Check Best Offers