To commemorate the sacrifices made by Baba Zorawar Singh, Baba Fateh Singh and Mata Gujri in Fatehgarh Sahib film producer Vimal Chopra has decided to make a film "Dastaan eSirhind". He along with co-producer Vicky Kalra and writer Navi Sidhu, director Manpreet Brar and stars Gurpreet Ghughi, Yograj Singh, B N Sharma, Sardar Sohi and Gurmeet Sajan in pivotal roles announced its commencement in city beautiful today.
"It is a story that will make your hearts soar with pride and honour," Gurpreet Ghughi affirmed while taking upon the charge.
Presented by Creative Eye Films "Dastaan eSirhind" is the tale of dedication towards ones religion and beliefs; a reminder of how precious our heritage is. The teachings of Gurus are written, literally, in blood and sweat.
"As a filmmaker it is my effort to stay authentic and sincere to their martyrdom. I hope the film teaches the right lessons to the audience," Navi explained.
While the producers said, Gurdwaras arrangekirtansandlangarsonshaheedi divasin Fatehgarh Sahib. Hardly anyone pays attention to the real significance of these. This film will make us revise the important event. We are sure people will know the tale of sacrifice and unconditional commitment to the humanity.
Actor Yograj Singh said, Sirhindholds a monumental place in nations history. The sheer mention of Sahibzaadas and Mata Gujri brings back a rush of gratitude and reverence. I hope this film will be able to serve its purpose of making people aware of the momentous story.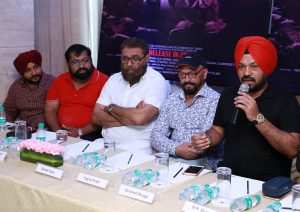 Ghughi affirmed, It is a proud moment for me to be a part of a film that pays tribute to the golden history of Punjab After "Ardaas" this film is close to my heart. We have heard these stories as kids from our parents and grandparents. Now, I believe, it is our responsibility to tell these tales to our next generation."
While Sardaar Sohi and B.N. Sharma exclaimed that they would be playing totally different characters in the film they have portraited till now.
Director Manpreet Brar said, "I feel blessed to direct stalwarts of Punjabi cinema that too in a film that depicts teachings of Our Gurus, I am hopeful imprints of our efforts will stay for ages in minds of Punjabi people world over," and added, "The film is getting full support from Shiromani Gurdwara Prabandhak Committee (SGPC). The shoot will begun at Canada next month and itis slated to release in 2018."
By Sonika Bhatia