The highly regarded actor, Kulwinder Singh Gill aka Guggu Gill is known famously for establishing Punjab film industry in 1980s. Till today, he has acted in 65-70 films so far and is popularly known for his villainous role in Gabhroo Punjab Da. In an Exclusive interview with Pollywoodboxoffice.com , Guggu Gill shares his incredible journey in the industry and also about 25kille with Yograj Singh.
Pollywood Boxoffice -How did you start your acting career?
Guggu Gill – I did my first debut film in 1986 with my elder brother Baldev Khosa. He was the Producer of the film, Putt Jattan De and I acted in one scene from the film. My acting career was truly great. Since I was not a trained actor, it was all the way more astonishing for me when I received an award for Best Villian.
Pollywood Boxoffice -How would you describe your childhood?
Guggu Gill – I was born in Muktsar, Punjab. I did not study too much. I dont have a degree. Films happened to me early in life since my brother was into the industry so I did not have to struggle much. My childhood was very smooth because of my family. They supported me a lot.
Pollywood Boxoffice -Who is your inspiration?
Guggu Gill – My father is the biggest inspiration to me. He was always there with me in all the decisions of my life. Apart from him, in the film industry, I get inspired by a lot of actors like Dharmendra Paaji, Dilip Kumar and Amitabh Bachchan. They are the golden actors from our time. I also like to watch Pakistani Punjabi movies and from Pakistani film industry, I am inspired a lot by the works of Sultan Rahi and Mustafa Qureshi.
Pollywood Boxoffice -Tell us something about your family.
Guggu Gill – Well, I have two sons and a wife. We all are very close to each other. I miss my father a lot since he was the closest to me. Apart from that, I think my youngest son might like to become an actor hopefully.
Pollywood Boxoffice -Which are your favorite movies in which you have acted?
Guggu Gill – My own favorites are Jatt Jeona Morh, Shareek and Pratigya.
Pollywood Boxoffice -Who is your favorite actor from the Punjab industry today?
Guggu Gill – I think everyones good. All of them out there are brilliantly talented are already doing a good job like Diljit Dosanjh, Amrinder Gill and many more.
Pollywood Boxoffice – Tell us about your future films.?
Guggu Gill – I have three films coming out this year as of now.
Pollywood Boxoffice -How was your experience acting in 25 kille?
Guggu Gill – In this film, Yograj Singh and I have shared the screen after 16 years and people have been waiting for this day. 25kille made with great team work and star cast. The story of the film was good and we made it with all our hearts. Ofcourse working with Yograj Singh is always Special.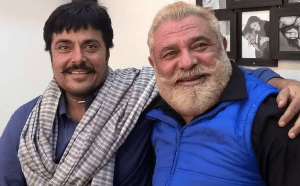 Pollywood Boxoffice -Any particular incident with Yograj Singh you might like to share?
Guggu Gill – Yes, one incident that happened scared us all. There is a scene in the film where Yograj Singh has to fall near the railway tracks and while shooting the scene, he was actually going to fall under the tracks. It was a horrifying experience for all of us.
Pollywood Boxoffice -Do you have any message for your fans?
Guggu Gill – I would like to thank all my fans for showering the love upon me. Be a good human and always take care of your closed ones and of yourself. And Eid Mubarak to everyone!
PollywoodBoxoffice.com
Movies Music & More…