Harvinder Mankkar the name needs no introduction as his work speaks for him. He is a living legend of his field. He has illustrated more than 22,000 books, directed and written scripts for more than 800 commercial ad films and as a writer he did 4 Hollywood films and many Bollywood films.
His cartoon characters Motu Patlu are extremely famous in Animation world.
He wrote & directed the film Khoj and entirely shot on Mobile phone which is first of its kind film. Pollywood Boxoffice got Opportunity for an Exclusive interview with the Great Personality find out…
Pollywood Boxoffice – Harvinder ji tell us about your journey? When and how you started and reached at this level?
Harvinder Mankkar – My journey actually started from my childhood as I started working for my family in early age, the cartoonist phase you know, so when I was young I used to draw lines on the footpath with coal. And at that time I had no idea that these lines one day will take shapes of my cartoon characters like motu-patlu and many more.
From then, my journey started. I was 13-14 years old when my first cartoon was published in a magazine and I got Rs. 5/- for it. At that time it was really a big thing for me, when you see your name being published, people start to know you, your family is happy. So, that was my starting, that one cartoon was like my first step towards this journey. Interestingly the cartoon slowly changed to steps, and then the comics came, I worked for different kinds of comics…. In India, first Indian comic was created by me like Amar-Akbar, Bhootnath series, etc. After writing these comics my interest developed in writing as well so I started writing serials, film shows for TV, jingles for ad films and films…and today here I am in front of you. I just thank god to make me capable of all this.
Pollywood Boxoffice – Late President Dr. Abdul Kalam honoured you ? May I know what was it for?
Harvinder Mankkar –Actually, I illustrated his biography Rameshveram se Rashtrapati Bhawan and when we gave him the book at Rashtrapati Bhawan, he referred it, he really liked it as it was the first time when a biography was illustrated through cartoons. So for that biography, he honoured me and praised me too. His Appreciation meant a lot to me and I still remember one of his saying that In life whenever you move, move alone if you move alone 20 people will follow you but if you move with the 20 people, there are chances of you to being lost in the crowd
First start with your own, take your first step yourself. Do not wait for others to walk with you. I am still trying to follow his words.
Pollywood Boxoffice – 22,000 books you have illustrated so far..hats off!!! It seems Impossible in a lifetime ?
Harvinder Mankkar –It just happened yousee when you work at that point you have no clue that you are making a record just do your work with passion, enjoy your work because when your passion becomes your profession nothing is beautiful than that. Understand that, just enjoy your work and never take it as a load or stress over it. If this had happened with me I would have not have been able to make even 22 books.
I enjoyed it, I enjoyed the characters, I enjoyed what I made, enjoyed writing, be it any ad film or feature film, I always went in deep and thought if I was there at their place what all I could do. So when you enjoy not only 22,000 but with gods blessing it will reach to 22 Lacs ..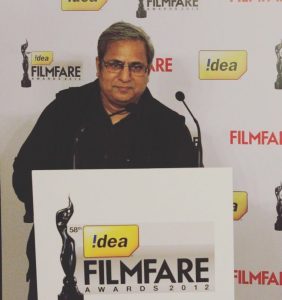 Pollywood Boxoffice – Surely, it will reach. Okay so I have seen some of your really amazing ad films so what is the magic that you put in them and they become such hits!!
Harvinder Mankkar –See ad films have a different method. In about 10-20 seconds you have to make a commercial and within that time only you have to convey your message too. Ad films should be more attractive, crispier and you convey the message in a simple yet beautiful manner. Many ad films you see that are not even understandable but you will be happy to know that in the whole world India is on top in terms of quality and concept of ad films. It can vary in terms of quality sometimes or the technique but in terms of concept it is India and the maximum numbers of ads are also made in India. And I feel extremely lucky that I have been a part of that journey too and will surely be one.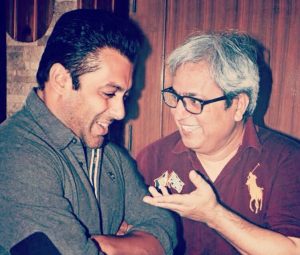 Pollywood Boxoffice – Okay ! So tell us like you keep visiting abroad for the Bollywood shows so the Indians who live abroad what do they think about Bollywood or about us?
Harvinder Mankkar – I have been to the Film festival in Norway, Australia and many more countries we do this and the Indians there they really miss India. They are 1000 miles away from here and your country is always our own country. May be the person be in any part of the world but your home, your birth place can never be forgotten and it surely calls you you believe it or not. There are chances that you get more money there or there are better facilities and its more clean and hygienic but your country, your own home is something a person can never forget about. So they all miss these things and when they miss all this they get attracted to bollywood as they can easily relate it with their lives, their country. I would like to share few Punjabi lines with you that I was told to say when I was in Australia for the ones who are living abroad.
Gore chitte lakhan jism handaye howangye.
.nit nevi sajni naal nehal agwaye howangye
aakhir kaar je ghar di yaad sata dendi howegi
tenu wi ydwatan di kadiaan di ho wangi
Chithi cheere naal ankhaa di bhukhna mitdi eh
Roz bechari bebe abuhey tey khad di hai..
puttar nu marjana hai aankh bulandi hoengi..
tenu vi yad kadi watan di aandi howangi..
So many people cried there , these words are written by Gurdas Maan Ji. These days the films, ads, stories, cartoons, etc. are more like a source to connect people with each other. It is not only entertainment rather it is more like a family. Facebook, Twitter, etc. all the social media is also a family now. You should say thanks to such things that they have connected people who were separated a long time back and allowed you to interact with others as well.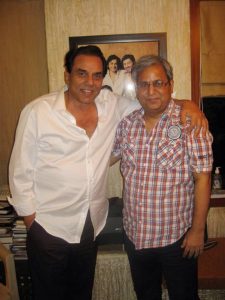 Pollywood Boxoffice – You have worked with Sunny Leone to The Superstar Amitabh Bachchan. How was your experience working with them?
Harvinder Mankkar –With, Mr. Amitabh Bachchan I did a show with him in Hyderabad. He is not only a Legendary Actor but also a down to earth human being I ever met…see someone is well known when he/she is capable of it and is worth it too. I can say it with confidence that he is at such a higher level and still very down to earth. If you go to their home or office from the 1st stair to the top there are so many awards that if you pick 10 awards he will not even get to know about it. It is full of awards and the awards show his hard-work and his worth and that he is capable of it.
I remember once I went to his room as I had the script and direction and I told him that well start at 9 o clock and I did not had that much of guts to even tell him that I have the script in my hand because I thought there is nothing that I should say as he himself is so intelligent already so I just turned back and then he called me and asked that who has written the script? I said I have written it so he said why youre not giving it then? His word to word saying was really a respected thing for me. And that is the reason Bachchan saheb Bachchan saheb hai.
Pollywood Boxoffice – Very rightly you mentioned it keeping in mind not to be a part of next controversy, on the front page. Harvinder Ji what magic you do that all the celebrities stay around you always? I know you are the Shining star but still what magic you do?
Harvinder Mankkar –Hard work is the only magic. When you work in films it is obvious that we will work with the celebrities only as a director, writer..I always stay behind the curtains as people cannot even see me while the celebrities stay around me
Pollywood Boxoffice – but you are the backbone
Harvinder Mankkar –Yes I am the backbone.. all thanks to God for all his blessings. So the main element is work. Any work you do without that dedication .you know when you do something with full passion, hard work, dedication a positive aura forms which reflects your face, your work . Your soul should be pure and you should be all yourself. One bad thing is the people who are hypocrate.never be double faced.different people different views but according to me a person should be good or bad if you are good it reflects in your work also I feel lucky to work with all these celebrities out there.
 Pollywood Boxoffice – Glad to know that youre so down to earth ..
Harvinder Mankkar –Its all because of almighty and luck I believe I am lucky enough to get these opportunities as there are many who are far more talented than me .I got the chance that people know me you have invited me to your show there is nothing better than this.
Pollywood Boxoffice – Okay so tell us as you are also the jury member of IFIFA , so would you share some enjoyable moments in Australia?
Harvinder Mankkar –IFIFA, a film festival happens in Australia every year. We take many celebrities there with us and Australia you know is a very beautiful country and there are many Indians, Pakistanis the people who love Bollywood. Gulshan Grover Ji was with me as he was also one of the jury members. Esha Gupta, Bipasha Basu were also there with me that time and many more. So the one moment that I still remember is about Sky Diving you know you jump from the plane so Esha Gupta Ji said that she want to do that and we were doubtful that if she could do that or not as it was 1000 ft high but she very bravely did it and yelled too.
Pollywood Boxoffice – Harvinder Ji we have heard that Bollywood is not a clean industry and getting work here is not that easy so what are your views on that?
Harvinder Mankkar –No, it's nothing like that. You can find both good and bad people everywhere. Based on any particular event you cannot blame the whole industry for that. Really a good place, it is more like a family within itself. I dont know what media says just because of their TRPS, but according to me it is one place where there is no religion, no caste, etc. Here you get role according to your capabilities and your talent. I wish if rules of the film industry regulates in our country there would be no more fights. Your ability gives you the work and your work showcases your ability. And when you make your work in terms of abilities there is nothing about being rich, poor, religion, caste, etc. Salman Khan is the only actor according to me who does so much of charity, who donates so much and still what the media has to say I dont know that
Pollywood Boxoffice –You organize workshops on "Life and Moral values" globally and you have millions of admirer on your Facebook Live too. Life is a very deep word. What is life to you?
See this is a deep question .Life is very tough. It is very tough that you just cannot live it. So just start living the moments..just enjoy all the good moments which comes to your way as this life is full of hurdles. But you can find out a way to overcome that hurdle. This is life. Life is a very beautiful word but people don't know its various aspects. Just live and let other people live too.
Pollywood Boxoffice – What is the message that you would like to give to the todays generation and to their parents too.
Harvinder Mankkar –Todays generation is very intelligent..as they have great IQ by birth only. As its modernization and gadgets are all around, 2 years old child knows how to use a phone even though his father doesnt know how to open the lock but the child can operate the mobile all alone. So the kids are really very smart and intelligent. The parents too should allow them to do whatever their child wants to and support them in that. As I wanted to go in drawing, my parents supported me throughout even when in that time in 1980s there was no scope for drawing. They allowed me to follow my passion and my interest. If they had not supported me then I dont think that I would have been sitting in front of you. Parents should never force their child to become a doctor, engineer, etc. All the children are smart and especially the Indian youth is very intelligent and sweet. You know when you become something of your own interest then only you become successful.only then there is Sachin Tendulkar, Amitabh Bachchan, Saina Nehwal and many more.
So just let them live their life and support them in whatever they do.
As you have worked both with Bollywood and Hollywood, so whats the difference between the two?
Harvinder Mankkar –Both are good. I did a film with Pen Nalin in Samsara… in which I had a storyboard, and special drawings. It was shot in Ladakh. One thing I liked the most was the discipline, they would stick to timings and schedule.I remember one day one artist was just 5 minutes late still the crew went for shooting and her scene was cut. So they are really strict with the rules there. And that is why such great movies are made there. Samsara achieved 39 awards and was also nominated for Oscar. I remember one scene when its around 2002 in Ladakh that we used the fur mike back then and by mistake a glimpse of the mike came in the scene. They cancelled the whole 12 days scene right there. So this dedication towards work is what I like the most about them. In Singapore, Asian Tale was my animation series which ran for 3 years and the dialogues and everything were by me in that. Their overall work is just perfect they dont compromise.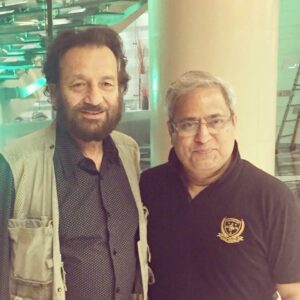 Pollywood Boxoffice – How can we forget animation? Your series is also about to come at nickelodeon and I have grown up reading Motu Patlu. So please share your experience on this also.
Harvinder Mankkar –Motu Patlu has made a remark and is history now. It is leading in the top in terms of TRP and it is one series that was first Indian series. As I told you before that before there were no sort of comics like these. Motu Patlu are such characters who have come in every source like print, puppets, Muppets, 2-D and 3-D animation. I feel lucky to see my name behind these characters. I feel really happy about it and we are upcoming with many more characters like Mere Mama, Bhootnath, Chatku-Matku, Sheik Chilli, and many more. We hope the audience and children like it and it becomes successful.
Pollywood Boxoffice – During Motu Patlus music launch Gulzar saheb tightly hugged you as he was impressed with your shayari. I would like you to share that experience with our readers.
Harvinder Mankkar –That was a very special occasion, At that moment I only prepared few lines as I am a great fan of Gulzar saheb because there are only few people who does shayari in an unique way. So As he was on the stage and I just read those lines
Hairaan hu jab geetoka bazaar dekhta hu.
Kam akal bewajha se khareedar dekh ta hu
bekhudi me khud ko samjh betha tha main shayar
sar jhukjata hai saamne Gulzar dekhta hoon..
so he really liked it and even that became one special moment for me.
There are very less chances the one who you love comes in front of you, There are very less chances the one who you love becomes your friend, There are very less chances the one who you love comes in your life, There are very less chances the one who you love meets you. Make yourself unique and be the one to whom 100 people look at and say I want to become like this.
Pollywood Boxoffice – I must say you are very creative Harvinder Ji. How do you manage so many things script writing, animation, directing, ads?
Harvinder Mankkar –I wake up at 3 o clock from the starting my alarm is set for 3:00 a.m. I write my script till 7:00 a.m. there is no horn, bell, noise. Then I go to the park, come back sleep for 2 hours and then start my day with the shoots and all. Like I said just divide the work as life is very small. I still want to do a lot in my life now also.
Pollywood Boxoffice – Tell us something about your new film KHOJ. It's one of its kind. What's special you did in this that it's become the talk of the town?
Harvinder Mankkar –KHOJ is a short film or I think Experimental documentary Biopic would be the right words to call it. I thought of doing something new and unique. So I came up with idea of shooting the entire film with Mobile phone and Hemali Sejpal who is great artist joined me in it. I didnt use any large setups, cameras, sound systems or make up or all that sort of things. I tried to keep it simple and as natural as I could do.
I even did editing on Phone itself. And people loved it which has given me inspiration to do more experiments and I will do it .
Pollywood Boxoffice – Last but not the least question, one message to our readers out there?
Harvinder Mankkar –A sher which is written by me only, buland kar apni hasti ko us halaat ke liye. Ki khuda khud tarse tujhse mulakaat ke liye. I would like to tell your viewers that make yourself capable enough that other people even almighty themselve comes to meet you. Just dont copy anybody, rather be one that other people copy you.
PollywoodBoxoffice.com
Movies Music & More…