Sardar Sohi is famously regarded as a critically acclaimed actor of the industry today. He is the person who witnessed the changing era of cinema and has acted in Bollywood as well as Pollywood. Know him more as he discusses about his life and how he began his journey on becoming a successful actor.
Tell us about how you became an actor.
I was born in 1950. In 1975, I started acting in theatres. Acting was always my passion. I went for drama classes in Punjab University. During those times, I earned merely Rs 250 per month but I still continued theatre acting for a period of 12 years. In 1983, I got my first break into films and I worked with Raj Babbar Ji and Om Puri Ji. And that is how my journey started.
How many films have you done till date?
I don't remember the exact number of films I did but it is definitely more than 40 films.
 
Where did you pursue your education from?
I didn't complete my education beyond first year in BSc in Agriculture. After I left my studies, I did farming for a year and then joined theatre soon after in Punjab University.
 
Tell us something about your family.
I loved and respected my father a lot. He always motivated me and believed in my decisions that I took in life. The only time he was troubled about me was the time when I was a theatre artist because I didn't earn enough. But later, I got films and then he was happy too.
Will we see you in any Bollywood projects?
Not as of now. But I have 2 Punjabi films coming up i.e. Bambukat and 25kille.
 Which is your own favorite movie in which you have acted?
I like Baghi. It received National award in 2005 and I was the dialogue writer for the movie. The movie was very close to me. It was based on inter-caste marriage and was executed beautifully.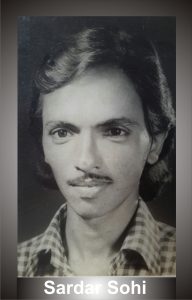 Sardar Sohi in Younger Days 
You have also acted in short films. Which ones are your favorites?
I like Nooran and Kambdi Deorri. These 2 short films were also selected for International film festivals in France.
 Bambukat is releasing this month on 29th. How was your experience working in this film?
The story of this film is realistic and based on racism. It is something that most of us witness on everyday basis. Bambukat's subject is too good and the two actresses in this movie have acted so well that the audience must watch it. Even Ammy Virk was great in this movie. Since I have worked with Pankaj Batra Ji earlier also, I know this movie will touch millions of hearts.
What do you have to say about Udta Punjab controversy?
I watched the film two days back. I liked the movie and I agree with the drug problem in Punjab. The movie, Bandit Queen had so much of abuses but it was critically acclaimed so much. Then why do people have a problem if Udta Punjab has abuses in it? In fact, I recently did a play in Canada on this particular drug problem.
Do you have any advice for the young artists in the industry today?
Yes. I want them to learn more and concentrate more on work. Sometimes they get carried away with the internet too much. They must know that success comes to those who work dedicatedly. Also, the young artists must train themselves before setting a foot in the films.
By Mousumi Paul