Mr. Rabindra Narayan, CEO of PTC Network & Sukhwinder Singh CEO Vismaad Productions today released music of Bhai Taru Singh, the 3D Animation Film on the Sikh legend, scheduled for release on April 27, 2018. Vismaad is the pioneer of in Sikh animation and was the brand behind the first ever full length Indian Animation Film Sahibzadey: A Saga of Valor & Sacrifice in 2005. The music of the 3D animated film was released at Chandigarh Press club in presence of leading Print & Electronic media names. The core team of Bhai Taru Singh (3D Animation Film) was also present on this occasion.
Sukhwinder Singh

CEO VISMAAD
On the occasion of the music release, Sukhwinder Singh, CEO Vismaad who is also the Writer and Director of the movie said: We used 3D animation and motion graphics technology for the upcoming movie to give our work a global reach and mass appeal so that the story of Bhai Taru Singh reaches every household.Kanwar Grewal, Jaspinder Narula, and Sidhu Tajpuri have lent their soul touching voices to our project. Many artists and music veterans worked together to deliver the melodious music. Im sure that the music of our 3D animation film will surely be remembered for decades to come.
Rabindra Narayan

CEO PTC Network
Rabindra Narayan explained that PTC Motion Pictures coming onboard as Music Partner with Vismaad is expression of its corporate philosophy to promote meaningful singing and music. In recent times Punjabi community in every corner of globe has resented with proliferation of vulgarity and violence Punjabi Music industry, which has impacted the social fabric. We at PTC Network take pride in owning the responsibility of promoting soulful and remarkable music of Bhai Taru Singh as a noble service to Punjabi language. Apart from 4 melodious Gurbani Kirtan tracks by RaagiJatha Bhai Satwinder Singh Harvinder Singh &Jaspinder Narula the songs by Kanwar Grewal& Tiger Style are rendered to capture the imagination of youth.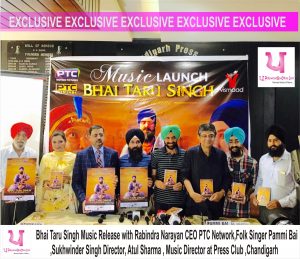 Story:
Bhai Taru Singh Ji lived during the most trying period for Sikhs. Under the cruel Mughal regime which was bent upon annihilating Sikh nation, Sikhs had price on their heads and were hunted by Mughals. Bhai Taru Singh Ji not only survived for 24 years but also earned respect and love of Hindus and Muslims of all the neighboring villages. Bhai Sahib was martyred because being a true Khalsa,he protected a poor Muslim girl from the clutches of the evil Mughal official without thinking in lines of religion.
Music Production:
Shabad Kirtan by Bhai Satwinder Singh, Bhai Harvinder Singh, Navneet Kaur, and Jaskirat Singh is a delight to hear and does justice to the films theme. Veterans like Atul Sharma, Jaskirat Singh, and Tiger style have made sure that music of the movie has a life of its own. While Prem Kumar as Sound Designer has done a commendable job, Labh Singh Chatamli and Sukhwinder Singh Rataul have overseen the lyrics.
First time in Punjabi Cinema:
Leading Sufi singer and heartthrob of millions of Punjabis,Kanwar Grewal has recorded the promo song for the film as a mark of respect to highly revered martyr Bhai Taru Singh ji, whom Sikhs remembers in their daily prayers.
Production & Music:
Major part of the movie is created at Vismaad Animation Studio in Mohali. Some 3D sequences requiring special skills and high end hardware/ software are developed at Chennai under direct supervision of Vismaad creative team. Ajax Mediatech as 3D animation studio worked alongside Vismaads in-house team. The film is scheduled for a global release.
Vismaad is a Mohali based animation studio, which is highly respected among Sikhs across the world for work done for propagation of Sikh History and creating Gurmukhi learning resources. Vismaad produced five animated movie in less than a decade which were 100% in-house. The movies are highly respected for authentic presentation of historical facts which are well researched and brought to the Sikh sangaat through vast range of channels.
Movies by Vismaad:
Sahibzadey (2005)
Banda Singh Bahadur (2006)
Sundri, The Brave Kaur (2008)
Bhai Taru Singh (2010)
Bhai Subeg Singh Shahbaz Singh (2012)
Vismaad has invested over $2.00 Million in Sikh projects till date and keeps on creating learning resources to educate the future generations. Sikh Animation projects by Vismaad are not for profit and revenue earned is reinvested to create more movies and other digital resources for benefit of the community.
PollywoodBoxoffice.com
Movies Music & More…
Best Offers