AE WATAN TERE LIYE
PollywoodBoxoffice.com Movies Music & More… Pays Tribute to its Martyrs. We strongly believe that our armed forces need to be thanked every day of our lives.The sacrifice that they and their families make for the Pride and Security of the Country are unparalleled .Jai Hind
AN EXCLUSIVE BY
Guest Editor
Capt.Narinder Singh (IAS) Retd
Pollywoodboxoffice.com
Movies Music & More…
Chandigarh the beautiful city has earned lot of fame and popularity by its architectural design, wider roads, literacy rate, pollution control having its inhabitants hailing from various States, but virtually dominated and out numbered by punjabis who are primarily defence personnel, senior bureaucratics or government employees ..Rare city where more than 100 Generals are settled here. Late giani zail singhs family house is nearby garden whereas Dr manmohan singh ex PM owns a house here. 3 Olympic gold medal winner Balbir Singh senior, first individual olympic gold medallist Bindra and flying sikh milkha singh belong to beautiful city. Great comedian jaspal Bhatti and Savita Bhatti made a niche in chandigarh. Renowned artists poonam dhillon and Jonita Doda have deep roots here.
Sir Balbir Singh Senior and Actress Jonita doda
Rose festival is one of the glamourous and captivating festival which is being held annually in the Leisure valley for the last many decades. Rose garden owes its birth to dedicated and devoted lover of plants Dr M S Randhawa ICS from punjab. This time the annual function took place from 22nd feb to 24th feb 2019 leaving many foot prints and memories. The last day of the function was a big tribute to our martyrs who laid their lives for the protection of motherland and its sovereignty.
The programme was well captioned "Ae Watan tere liye". When the roses of different shades and colours were blooming in the bright sun, the team of artists headed by flamboyant IPS Bawa protruded from the mammoth gathering to render scintillating performance of music. His kitty of artists consisted of reputed play back singers and repertoire of musicians like kamal, raju, rinku and bunty. Piyush sharma jolted the stage with his favourie song, " dekho veer jawano". Elegant Mirza an effervescent singer in her gaudy costume mesmerized the audience by her songs particularly," vande matram" with her mellifluous voice. Irresistible gathering started chanting with her in unison.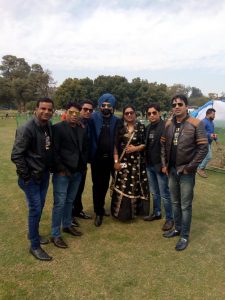 IPS Bawa with his troupe
Suman Rani a local product beautifully sung " ae mere watan ke logo" making everyone to remember Lata ji. Eerie calm prevailed during the song. The audience was so spell bound that even mrs asha jaswal former mayor sitting by my side started sobbing which also made my tears trickle in the revered memory of valiant soldiers who had laid their lives.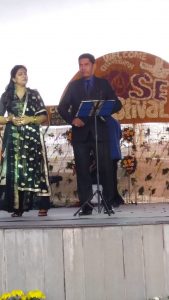 Mumtaz Mirza and Piyush Sharma
Bawa a renowned anchor and a prominent member of Sakha ( a famous cultural org of Delhi) with his wits and humour oftenly recalled all wars, 26/11, kargil operation and Pulwama terrorist attack. In every quote he glorified our soldiers and their acts of bravery. Bawa with his resonate voice passionately sung "I love my india" which won him everyones heart. His thundering voice reverbrated in the atmosphere and the echo of "I love my India" caused scare to enemy on the border.The programme was meticuloysly designed which strengthened the spirit of patriotism and unity in diversity. Public was oftenly so mesmerized that they invariably gave standing ovation to performers and could not ask more. Bawas team of talented singers and musicians mellifluously enthralled the audience and spreaded the message of patriotism, vociferously raising the slogan," i love my India".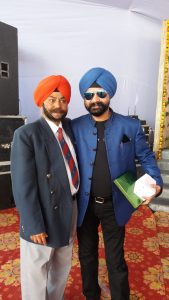 IPS Bawa with Capt narinder singh, author
About the author
The writer Capt Narinder Singh IAS retired as a senior bureaucratic and known administrator. He also served as Director Cultural Affairs, Archaeology and Museums punjab and also held the post of Director Tourism Punjab. A prolific writer. His articles on art, culture and sports have invariably figured in numerous leading newspapers and magazines. A highly committed art and sports promoter.
https://www.youtube.com/watch?v=wrkTRwpfCSY&feature=youtu.be